BY KATELYN FERRAL and ERIK LORENZSONN for Madison's Cap Times
Epic Systems CEO Judy Faulkner is one of the few self made female billionaires, and there's no question she did it "her way." In the 1980s, when other technology companies were choosing sleek, modern buildings as offices, Faulkner picked an old Victorian home because it felt like the right environment. When other young startups grew with venture capital and Faulkner was advised to seek some too, she thought–no.  At a time when other entrepreneurs sought business degrees to help run their companies, Faulkner didn't want one. And when other business people wore suits, heels, ties, stockings, Faulkner, the head of the Verona-based electronic health records giant, opted for comfort.
"High heels hurt. Stockings — stockings are probably like ties. They constrain your thinking,"
Faulkner said, interviewed by the Cap Times at Epic's headquarters."So a lot of it was just like, 'I can't work this way' rather than much thinking about defying tradition."
Judith Faulkner trusts herself.
She has a resolute fidelity to her own logic, relying on it to chart her course as the head of Epic.
"I wonder sometimes why more people don't do that," she said. "I always think of it as the yellow brick road. I can see the yellow brick road. I know how to step down it and I don't want to go off of it. I can see it. And I think for the others maybe they can see it, but they question it. They say, 'Is it really the yellow brick road?' But they probably know it is."
Faulkner asks questions, too, but they are vehicles for solutions rather than doubts. They aid in her single-minded goal to create the best medical software of its kind and to effectively push her employees to help her do so.
Judith Faulkner and Epic Systems created a culture and a community
Epic's suite of software has influenced how health care is administered by refining how medical information is collected, analyzed and relayed. The company's growth has reshaped Dane County — bolstering the economy, spurring housing development and igniting Madison's restaurant scene.
At its founding in 1979, Epic had three employees: Judy Faulkner and two assistants.
Today, it has more than 9,000.
Forbes estimates Judith Faulkner is worth $2.4 billion. But despite her wealth and the massive influence her company has on Dane County, she keeps a low profile, avoiding the media and rarely trumpeting Epic's success beyond the confines of its sprawling, verdant campus.
Faulkner sees health care through the frames of math, which she calls truth, and computer science, its functional better half.
"Math is truth and computer science is what works. It's great to put them together because you need both," Faulkner said.
From those foundations, she tackles what she sees as an ever-evolving, critical problem: the malfunction of the human body. The intersection of health care and information technology is where Epic has worked over the last 38 years, carving out a greater role for computers in medicine.
"There is the deep passion the clinicians have for caring for their patients and that is infectious," she said. "You want nothing more than to make sure that you meet the needs of each of those clinicians so they can care best for their patients because they're depending on us to make sure that they do that well."
Judith Faulkner on her early days
"I was really glad Bill Gates came on the scene because he made being in our type of environment, he made being nerdy a good thing, not a bad thing," said Faulkner.  
"It was painful to be nerdy when I was growing up and I clearly was nerdy. But I think it became a perfectly fine thing to be nerdy after Bill Gates," she said.
"So that, it isn't as much defying anything, it's who are you, really, and can you be who you are?" Judith pointed out.
Faulkner's father, Louis Greenfield, was a pharmacist and helped spark her interest in health care, she said. Her mother, Del, "never went to college. She graduated high school (with) straight A's at age 15," Faulkner said. "Only later did she realize she could have gotten in for free because she was such a good student and I think that really made her sad. It was a huge regret in life she didn't do that." Just outside the Epic conference room window hangs a framed certificate, a reprint of a Nobel Peace Prize given to Del Greenfield. Greenfield was the director of Oregon Physicians for Social Responsibility, which, through its affiliation with International Physicians for the Prevention of Nuclear War, won the Nobel Peace Prize in 1985.
Faulkner has a sister who is a physician and a brother who is an attorney. Her husband, Gordon, is a pediatrician. The Faulkners have three adult children, two daughters and a son.
Judith Faulkner on her winding path to an Epic journey
"Sometimes I think it's a river you're floating down. Life just takes you different places," Faulkner said. "When I was in graduate school, I took maybe what was the first-ever computers in medicine course offered in the world."
Faulkner came to the University of Wisconsin-Madison in 1965 to pursue a master's degree in computer sciences after graduating with a bachelor's degree in mathematics from Dickinson College in Carlisle, Pennsylvania. UW-Madison's computer sciences program was only the second in the country at the time. Its curriculum wasn't finalized, professors weren't sure in which school it fit and women researchers were few.
The coupling of computers and medicine was unconventional at the time, said UW-Madison computer sciences professor emeritus Larry Travis, Faulkner's academic adviser.
"It wasn't clear that computer applications belonged in the field," he said. Early medical computing devices had to be manually fed with information, stored on spinning reels of magnetic tapes.
Faulkner didn't pursue a Ph.D. but UW-Madison awarded her with an honorary doctorate from the Computer Sciences Department in 2010.  Epic has endowed three faculty positions within the department.
Greist needed a graduate student to make a call schedule for the hospital using a computer, and called on Faulkner. She stayed up all night several nights in a week to finish it, Greist said. "This tells you a lot about Judy. When she said she was going to do it, she meant she was going to do it," he said. "She had kids, and I had kids. She would come and stay at our house over here by West High School. And she would work all night sometimes getting this program done."
Judith later developed a computer program called Patient Information, Storage and Retrieval, or PISAR. She, along with Greist, decided to form a company around it, aiming to use it as a tool to organize and gather patient information.
"The goal of all of this was to bend this computing tool to things that would help people who happen to be patients," Greist said.
Judith Faulkner: among the first founders to see how computers can help people
Faulkner, Greist and the other co-founders started Human Services Computing in a basement on Madison's near west side in 1979. The office space at 2020 University Avenue — a building that would later become home to Pleasant Rowland's famous American Girl doll franchise — was sparse. The business had some furniture, Steelcase desks that an interior designer had picked up for them on the cheap, and not much else.
"We just got a lot of paint, and painted it different shades of purple," said Faulkner.
The hardware that hosted the code was a top of the line Data General Eclipse "minicomputer." The machine, small compared to warehouse-sized mainframes of the era, was housed in a metal chassis the height of a refrigerator.
"The machine was brand new. Every bit of equipment was great. We didn't have much money for anything else," said Greist.
Jane Jiumaleh, who trained clients to use Judith Faulkner's Epic's software in the early 1980s, remembers the office as "a little slapdash." If she needed to find the tickets for her next flight to meet with a client, she had to rifle through piles of papers strewn across desktops.
"It wasn't messy in a slovenly way, it was messy in a busy personal way," she said.
Even during the hardscrabble early years, Greist said Judith valued fun. Back then, that meant themed picnics. Faulkner's whimsy is also on display each year at the company's Users Group Meeting — an annual gathering of thousands of Epic clients at the Verona campus — when she dresses up in costume to deliver her keynote address. One year, she was Supergirl; another, she was a Harley-Davidson biker. Most recently, she was the Mad Hatter from "Alice in Wonderland."
John Volker, the former mayor of Verona, remembers when Judith Faulkner personally delivered a new customized fire truck to Verona's station. She showed up with her white Samoyed dog covered in black cut-out spots to make it look like a dalmatian. "Her sense of humor, I'd say it rivals 'Monty Python,'" Volker said.
"It is not fun in that it's a party. It is that you have to like the work you're doing. Because if you don't…it's a big part of your life. It's important to enjoy it," she said.
Enjoying the work can enable you to ultimately do it better, Faulkner said. When she meets with potential clients, Faulkner doesn't stress out about it — she just tries to get to know them and understand, she said.
"I often don't think of this as, 'Oh, this is stressful.' I think of it as, 'Whether they choose us or whether they don't choose us, I want to have fun meeting them. I want to learn who they are. I want to learn what they do,'" she said.
Jeff Wu, a former manager at Epic who worked as a software implementer there from 2006 to 2012, said Epic's style mirrors Faulkner's.
"She's looking for people who have the right cultural fit," he said. "It comes down to the mission, right? I think that's what keeps and sustains Epic. People buy into the mission, that they're really making a difference by making the software that's produced there. Judy paints a really strong picture of it … then you're more likely to make some sacrifices."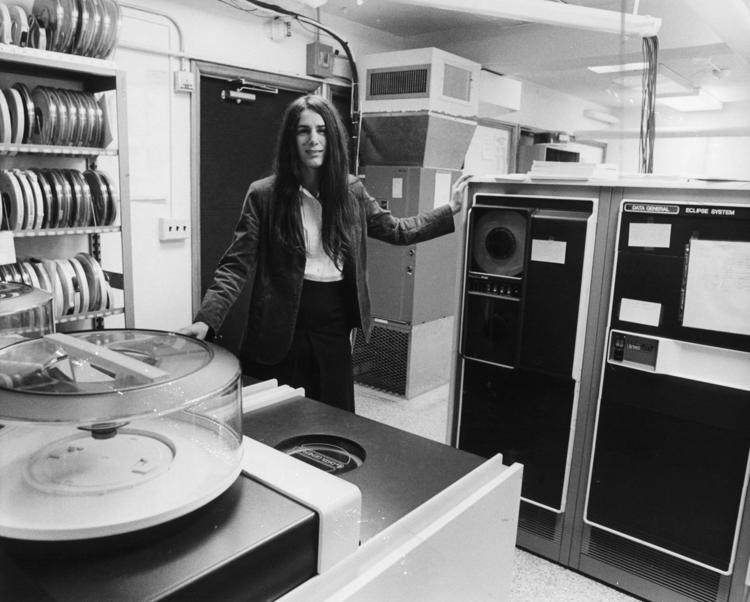 A longer version of this article was originally published in The Capital Times  
In this article